Unilevel MLM Plan is an unlimited width plan that allows you to sponsor only one line of distributors, so everyone you sponsor is on your frontline (i.e. no spillover). As there is no further restriction, you can build stronger and longer (length) network down the line. Unilevel MLM plan is efficient for all kind of MLM organizations whether they are small or big. Unilevel MLM Plan is one of the most popular and also the oldest plan of an mlm industry. The reason for its popularity is that it is much easier to understand. The plan name itself defines this plan support one line of distributors so that everyone under you is a frontline. Uni-Level Matrix is one of the simplest concepts in the MLM industry.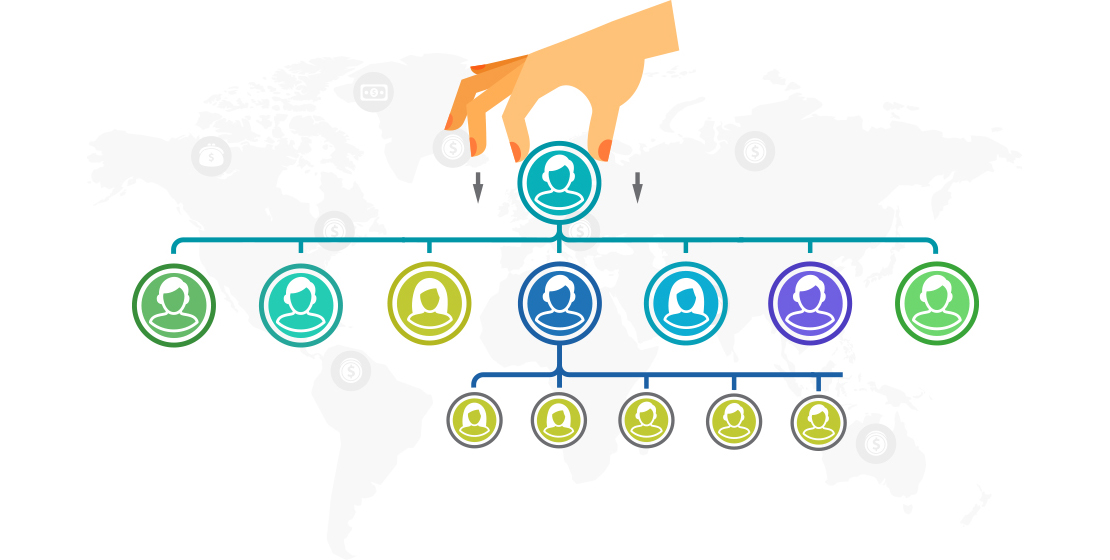 Every individual or whole industry can easily convey and explain this Unilevel Plan to newcomers and MLM Business Affiliates. With this Uni-level plan, one can sponsor as many distributors as they like, and they must place all of them on their frontline. However, rather than advancing and breaking away, everyone is paid the same commission rates. That is where the term unilevel comes from everyone is on the same level.
Due to the fact that this plan has only one level, it is always easy for you to manage it. First, you do not require any specializing tool or skills to manage this plan, which saves great on your costs. Next, this plan is fully taken care of by the members only, so you again do not have to invest your money and energy in looking after the processes. Unlike the matrix plan, there won't be any spillover process as the width offered is massive. The plan comes with a clear concept and one can build a huge network and with the help of each member's contribution as the network is just like an infinite loop.
MLM Companies choosing Unilevel plan today are using it with some customizations in it to make it more interesting and stand out differently. Besides that, MLM Companies are choosing product which can provide quality to user as well as more profit to company. Being an experienced service provider in MLM Industry, we can provide MLM SOFTWARE as per your needs of Unilevel MLM plan with must have and high end features which guarantees flexible implementation of your neatly and nicely designed MLM UNILEVEL PLAN to ensure success of your company.
Advantages Of The Unilevel MLM Plan

Easy Plan
Since there is no complexity involved in the MLM Plan structure, it is very easy to understand for the new distributors.
Offers solid income
It is easy to earn commission as there is no limit in recruiting the direct downlines and a certain percentage of the sales of the downline is also earned up to a fixed level deep down the Unilevel MLM plan.
No Compensation overflow
When compared with other MLM plans, the MLM company can restrict the compensation amount and can avoid overflow.
Adopted as Universal MLM Plan
As it is easy to run an MLM business with this plan, it is a universally adopted business model by most of the MLM companies.
Unilevel MLM Software Features


Easy Customization

E-commerce

Multi Language

Multi Currency

Promotional Tools

Unilevel Compensation Calculation